The 2017 edition of
AstriCon
was very intense, or at least it was for me (Daniel-Constantin Mierla,
Asipto
) and the
Kamailio
presence at the event. Three days without any time to rest!
Before summarising the event from personal perspective, I want to give credits to the people that helped at Kamailio booth and around. Big thanks to Fred Posner (
The Palner Group
,
LOD
), he did the heavy lifting on all booth logistics, from preparing required things in advance, setting up the space, banners and rollups, stickers, a.s.o. Of course, Yeni from
DreamDayCakes
baked again the famous
Kamailio and Asterisk cookies
, very delicious bits that people could taste at our booth.

Carsten Bock from
NG-Voice
was there with his Kamailio-VoLTE demos and devices. Torrey Searle's giveaways from
Voxbone
were very popular again. Alex Balashov from
Evariste Systems
ensured that anyone in doubt understands properly the role of Kamailio in a VoIP network and the benefits of using it along with PBX systems. Joran Vinzens from
Sipgate
completed our team, being around as we needed.
It was a great time to catch up with many friends, VoIP projects and companies in the expo area, sharing the space with Dan Bogos from CGRateS project, chatting with the guys from Obihai, IssabelPBX, FreeSwitch, Janus WebRTC Gateway, Simwood, Bicom, Homer Sipcapture, Telnyx, Greenfield…
There were four presentations by the people at the booth — I, Carsten, Fred and Joran had talks on Wednesday or Thursday. On Tuesday, I, Fred and Torrey participated to AstriDevCon, as always a very good full day session with technical debates, with Mathew Friedrikson and Matt Jordan coordinating and talking about what's expected next in Asterisk.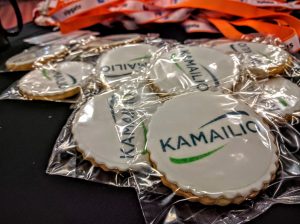 Close to the end of the event on Thursday, it was the open source project management panel, with me among the panelists. Being completely warmed up and with some pressure from James Body, I also did the Dangerous Demos, where the Ubuntu Phone decided to reboot as I was on stage, leading me towards the Riskiest Demo Prize (aka Crash & Burn). Carsten and Torrey did dangerous demos as well, with Carsten being the runner up on one of the tracks, which secured him a nice prize as well.
Kamailio related presentations will be collected at:
I expect that recordings of the sessions will become available in the near future from the organizers of Astricon.
During the breaks and evenings, I enjoyed amazing time with friends and kamailians around the world. It's no time to bore with people such as James Body, Simon Woodhead, Susanne Bowen, David Duffett, Nir Simionovich, Lorenzo Miniero … and many others that I miss to remember at this moment…
Definitely it was one of the best
AstriCon
ever, credits to Digium and the organizing team! Kamailio had a great time there, see you at the next editions!
Thanks for flying Kamailio!