The event structure of the
Kamailio World 2017 (May 8-10, in Berlin)
has been published along with a selection of the conference workshops and presentations. It is going to be agin a balanced content, combining sessions on how to use Kamailio, sharing knowledge on security and scalability as well as presentations about related tools and applications from the Real Time Communications area.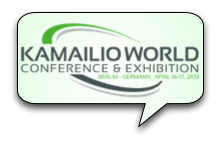 You can see more details at:
Soon the first version of the schedule should become available, keep an eye on the event website!
Thanks for flying Kamailio!