Every year there was an increase in the number of the attendees and we are going to run full house this edition. Of course, we take this chance to celebrate 15 years of development for Kamailio, a long journey, not always smooth, but everything ended up strengthening the project. Being the oldest very active developer, I (Daniel-Constantin Mierla) can say that Kamailio has one of the most active, challenging and pleasant to work with community, including here all the developers and users, this being the main reason of getting to where we are now with the project. Many thanks to all of you for that!
Back to the next week, some last minutes updates.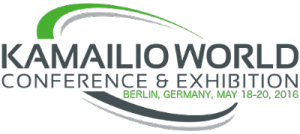 The trip to Fraunhofer Fokus Institute is confirmed and if nothing unexpected happens, those that registered for workshops can choose to visit the NGNI laboratories. It will worth it, few very interesting demos will be shown on site and you can interact with some of the bleeding technologies that may shape the future of how we communicate and interact in real time with all things around us. A shuttle bus will be available to transport between Kamailio World location and Fokus institute. More details are available at:
If you haven't participated at the past editions, take a bit of time to get familiar with the address of the event:
Like in the past, it is a single track conference, the schedule is available at:
The exhibitors are preparing again very interesting product or services show cases and demos for the entire duration of the conference days. Expect some local
4G/VoLTE
infrastructure from
NG Voice
and
Core Network Dynamics
.
Matrix.org
returns this year with an integration between SIP and the
matrix
federating protocol and platform.
Digium
will give you the chance to play with their latest SIP phones as well as see demos about the new cool Asterisk features. A consistent team from
Sipwise
will be around to reveal all the bits of SIP:Provider platform.
Special thanks to all sponsors
that allowed us to bring again an amazing group of speakers:
FhG Fokus, Asipto, Sipwise, Sipgate, Simwood, Evariste Systems, Matrix.org, Digium, Core Network Dynamics, Voicetel, DIDx and Pascom
.
See you next with in Berlin!