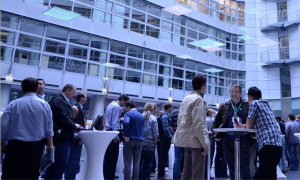 The content is filled with
excellent technical tutorials
in the first day and
vast range of hot topics covered during the two conference days
— Kamailio, SIP, WebRTC, Asterisk, Sems, JsSIP, Performance and Traffic Monitoring, OpenStack, Kazoo, Erlang, Cloud PBX, OTT or VoLTE are among them.
We are honoured to have an
impressive list of speakers
, from those that are involved in building the communications, able to share their expertise from deep technical aspects to market needs and business perspectives.
Over all, the event has grown continuously from its first edition,
special thanks to our sponsors
: FhG Fokus, FhG Forum, Asipto, Sipwise, sipgate, Simwood, Obihai, Matrix, Digium, Tyntec, NG Voice, CoreNetDynamics, Pascom, VoiceTel, 2600hz and VUC. They made possible to host the event at a very nice location in the city center of Berlin and be able to bring a consistent number of experienced speakers.
Looking forward to meeting many of you next week in Berlin!